The Best Brands for Handheld Vacuums
In an era of quick and easy, nothing makes cleaning as convenient as a cordless handheld vacuum cleaner. It's the perfect quick cleaning tool for your home or vehicle, and makes a great addition to your artillery of cleaning appliances, to help you get the job done.
But the modern vacuum cleaner market is saturated with a vast array of products to choose from, making the search for the best hand vac more difficult than it should be. Thankfully, there are some brands that you can always rely on to produce high-quality cleaning tools, and you can bet you'll probably love some of the hand vacuums they have to offer. To help you narrow down your search in finding the right handheld vacuum for your home care, here is a list of the best brands for handheld vacuum cleaners.
Black & Decker
Black & Decker has been around for the last 107 years, establishing itself as a company for great home care appliances. You can trust this brand for reliable, affordable cleaning tools, and when it comes to handheld vacuum cleaners, Black & Decker has a whole range of them. Of course, this is to be expected from a top home-care appliances company that has been in the industry for years.
Most people know about the Black & Decker Dustbuster, which is great for all-around cleaning performance and popular for being the quietest hand vac among the known. The best one is priced at around $114. This well-known HHVI320JRO2 Cordless, Cyclonic Dustbuster is at the higher end of Black & Decker's hand vacuum line.
Some of Black & Decker's other hand vacuums are more affordable for budget shoppers, like the CHV141L 16-volt Lithium Dustbuster at $79.99 or the Black & Decker CHV1510 Dustbuster 15.6V Cordless Cyclonic. Another one of Black & Decker's best vacuums of 2018 is the Black & Decker Pivot BDH2000PL. It comes with impressive suction and a rotating head to help reach difficult spots.
If you look Black & Decker up online, you will find customer reviews that have great things to say about this home care brand, which is reassuring when considering to buy one of their home care appliances.
Dirt Devil
Founded in 1905, over 112 years ago, Dirt Devil is another long-standing home-care appliances company that has been around forever. Known for its specialty in vacuum cleaners, Dirt Devil has become known as a quality vacuum vendor that produces some of the top handheld vacuum cleaners for 2018. This shouldn't come as a surprise though, as the Dirt Devil brand is actually owned by TTI Floor Care North America.
Like Black & Decker, Dirt Devil carries a range of products, namely vacuums, with prices for everyone. Among their top products is the Dirt Devil Scorpion Quick Flip handheld vacuum cleaner, at just $30. This is extremely affordable, and the tool is great for clean-ups in your house, car or workshop. Of course, there are pricier versions of the Dirt Devil Quick Flip, like the QuickFlip BD30025B, at just under $70. They have many other options to choose from, including the Accucharge, Flipout and Gator handheld vacuum cleaners.
Dyson
Far younger in years than its competitors, Dyson has only been around in the home-care appliance industry since the year 1987. With its futuristically designed cleaning product technology, it's no wonder why Dyson is such a hit in the millennial home. Dyson also takes the cake for some of 2018's best vacuum cleaners across all categories, including stick vacs, uprights, and canisters.
Its most popular handheld vac is the Dyson V6 Trigger, known for its fine-design and controls that are easy to use. At just $27, this is definitely a deal, however, it isn't exactly Dyson's best handheld vacuum cleaner on the market – at least not anymore.
Dyson is well-known for its pricier, yet extremely powerful, vacuum cleaners, and they have a handheld vacuum cleaner that matches up. It's the Dyson DC34 Animal. As the name probably indicates, this is for homeowners with pets and the need to quickly clean up free pet hairs around the house. Valued at $249.00, this handheld vac offers more powerful suction than you will find with most handvacs, but it isn't exactly cheap.
Shark
Another house care company that has been around for over a century, Shark specializes in floor care and cleaning. Like Dyson, Shark's line of cleaning products features unique designs for a futuristic, modern look, with functions that fit the modern-day homeowner. Shark is known for its high-quality cleaning tools, often featuring versatile designs, such as turning a canister into an upright or an upright into a handheld vacuum cleaner.
One of the best Shark handheld vacuums for 2018 is the Shark Pet Perfect II. At just $50, this compact cleaner is great for easy storage and even better for pet owners who have pet hair problems to deal with. This handheld vacuum cleaner is especially good for removing pet hair from carpet and upholstery, but it doesn't have a very long battery life, at only 10 minutes per charge.
Other Shark handheld vacs include the Rocket Hand Vacuum and those that come with their versatile upright stick vacuums.
Bissell
Founded in 1876, Bissell is probably one of the oldest in the game when it comes to home care cleaning appliances. Starting with the carpet sweeping machine about 141 years ago, Bissell has come a long way in cleaning technology and innovation. To this day, they are one of the most trusted brands for floor cleaning tools, and the name "Bissell" is almost synonymous with the idea of a vacuum.
Their best vacuum on the 2018 market is the Bissell Pet Hair Eraser, at just about $30 on Amazon. Made specifically for pet hair, this vacuum is so cost-effective because it does not come with any additional brush or crevice tool for a variety of cleaning tasks. However, for pet owners, it gets the job done. If you're looking for something can do even more detailed pet cleaning, you can always try the Bissel Pet Stain Remover instead.
Eureka – Eureka Easy Clean
Finally, the last on the list is also a home care company that creates vacuums and other cleaning appliances and has been doing so for more than 100 years. Eureka was founded in 1909 by Fred Wardell and has become well-known for its affordable and useful cleaning products.
They make the list for their 2018 handheld vacuum cleaner that has the best suction power for its price, at just under $45. It's called the Eureka Easy Clean, and according to customer reviews, it is the best performer across all categories of cleaning for handheld vacuums. Its versatile design allows it to clean carpet, hard floors and upholstery, making it one of the best handheld vacuum cleaners of this year.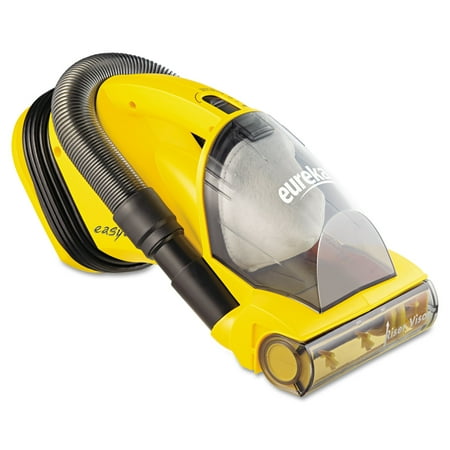 These are just the top 6 most popularly known and trust vacuum cleaner manufacturers that exist in the vibrant household cleaning industry. They are the best, although, there are a lot of hidden gems available if you have the time to look around for the handvac that's right for you. If not, you can always go to one of these trusted floor-care brands to have what you need for your own home floors and house-cleaning.